El Consorci and Leitat Boost a 3D Printing Public-Private Hub for the Production of Respirators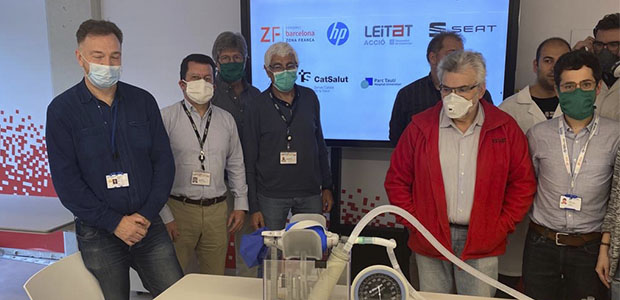 22 de March de 2020
The alliance betweeen Consorci de la Zona Franca (CZFB), HP, Leitat (Tecnio), together with CatSalut, through Consorci Sanitari de Terrassa (CST) and Parc Taulí Hospital in Sabadell, have been able to develop the first campaign respirator that can be produced on an industrial scale to support hospitals and ICUs.
In response to the COVID-19 virus rapid expansion that has generated a shortage of medical equipment, especially respirators that are essential to save patients lives, Leitat has designed a 3D-made campaign respirator to make this essential device available to the health system.
Thanks to 3D technology and the alliance's existing capabilities, both in design and technology as well as in prototyping, it has been possible to develop and test this first model's functionality. The device also has the virtue of being industrially scalable, meaning that in the next week it can reach a production capacity of between 50 and 100 units per day.
The device is a field respirator named Leitat 1 whose design and components have been simplified as much as possible with the aim of developing a robust, useful and least complex medical device, facilitating its production and assembly.
The design has been made by Leitat's senior engineer, Mr. Magí Galindo, and medically validated by Dr. Lluís Blanch, Director of Innovation at the Parc Taulí Hospital in Sabadell, an expert in mechanical ventilation.
Its production will begin immediately, adjusting to the requirements that may be pending according to the Agencia Estatal del Medicamento (State's Medical Agency) for the improved model (Leitat2) on which it is already working.
The companies Airbus and Navantia have joined the alliance for its production, which will also rely on the production capacity communities of users and makers, with the aim of increasing its production capacity in very few days.
You can download pictures by clicking on:
+ info: